MICE Event Management Company
Get your thoughts and ideas come alive with Armaans creativity and event management skills...
Corporate Event Planners in India
WAIT !! Want to launch or host a corporate event . Get connected to us to plan and organise for you on any medium of your choice !!
Best Way to Represent your Next Business
JOIN US to share your thoughts and ideas for the event. ALLOW US to organise it for you & you can SEE BETTER RESULTS in no time !!
Product Launch Event Organisers in India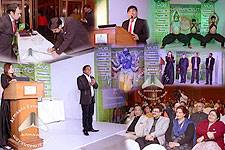 Each and every product have their own value and needs, before market to aware from new product to the general customer and dealers we plans unique and different idea for the product launch with the new marketing strategy with the help of entertainment show and publicity (Print / Electronic / FM / Hoardings etc).
For Product Launch, we undertake :-
Venue Management
Fabrication with light sound of launch concept
Invitation of dealers from all parts of nation
Guest management
Celebrity artist / guest management
Boarding lodging of guest
Publicity through News paper, Electronic channel and FM
We deal in product launched for those companies who wants to launch a product in the market. For a company to make the awareness of product through product launches program has become very vital part to show the feel and touch reasoning still remains strong in the mind of the consumer. So although you have advertised in other channels, how do you explain product usage to the audience?
A well-executed product launch as part of an integrated marketing campaign is of paramount importance in raising awareness of a new product or service and generating excitement amongst your target audience.
We understand that different industries have different needs and styles and after listening carefully to our clients, ARMAANS EVENT will devise innovative and unique strategies to fully incorporate the brand, industry and goals of each individual client into the launch. Our creative team will co-ordinate, design and produce your unique launch with complete attention to detail, whether it be a new product or service or the re-launch of an existing product.

MANOJ GARG
Chief Marketing Manager, ESCORTS
"​This is with reference to the service and work of Event Management awarded to you for Escorts Agrovision at Nagpur, Maharashtra. The service and works provided by your company was excellent and to our expectation. Looking forward to yet another challenging and creative point that you now need to explore and work upon."

NEERAJ GOYAL
Zonal Marketing Manager, Ash​ok Leyland
"​This is in reference to the events carried out by your agency for us in North India. We want to place on record the good work done by your agency. Particularly, the pain taken by Armaans Event to ensure timely execution to make these events a success is really appreciable.We got good response from our customers and look forward to do more such activities through your agency."